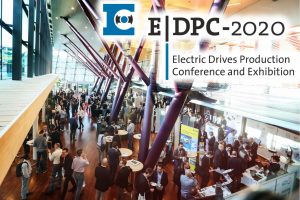 Participate in the 10th International E|DPC on December 8 and 9, 2020 and join the research community for the production of electric drives.

Increasing power consumption, CO2 and NOx reduction, growing mobility and progressing automation – all of these future megatrends are impossible without powerful electric drives. The Conference E|DPC and the accompanying Exhibition has been established as an outstanding platform for the exchange of experiences for researchers, product developers, production experts, purchasers and potential users of electric drives over the last nine years.
This Year the Conference again offers scientific and application-oriented technical contributions to the latest research results regarding the production of electric drives and application-related technologies, such as:
ASSEMBLY AND HANDLING TECHNOLOGIES
BATTERY ELECTRIC DRIVE TRAIN
CURRENT TRENDS AND THEORIES OF ELECTRIC DRIVES
ELECTRIC DRIVE PRODUCTION SYSTEMS
ELECTRIC DRIVE SPECIFIC TESTING
ELECTROMOBILITY
ENERGY TRANSFER FOR ELECTRIC VEHICLES (E|TEV)
INDUSTRY 4.0 APPLICATIONS IN ELECTRIC DRIVES PRODUCTION
INNOVATIVE ELECTRIC MACHINE DESIGN
INSULATION TECHNOLOGIES
INTERCONNECTING TECHNOLOGIES
MAGNET MATERIALS AND PROCESSING
MANUFACTURING TECHNOLOGIES FOR SOFT MAGNETIC MATERIALS
NEW APPLICATIONS FOR ELECTRIC DRIVES
NEW MATERIALS AND SEMI-FINISHED PRODUCTS
POWER ELECTRONICS AND CONTROL METHODS
PRODUCTION OF ALTERNATIVE DRIVE TECHNOLOGIES
SUSTAINABILITY IN PRODUCT LIFECYCLE
THERMAL MANAGEMENT AND COOLING
WINDING TECHNOLOGIES
We are currently applying for sponsorship from the IEEE as in previous years.
We look forward to welcoming you to Ludwigsburg from 8 to 9 December 2020. If you are interested in giving a presentation at the upcoming congress, we look forward to receiving your presentation topic until May 31, 2020.
Gold Supporter:

For more information on the conference please visit www.edpc.eu.
Kontakt: