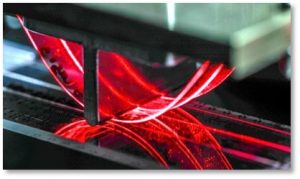 Description:
In FAPS, we have the technical know-how in fabricating polymer optical waveguides (POWs) via aerosol jet printing (AJP) with the best result. POW material is printed in between conditioning lines, which were previously printed by using flexographic printing and then cured under UV light. However, the flexographic process remains challenging as the process is complicated and limited to planar substrates. Hence, this work aims to develop an alternative method in preparing the substrates material through a laser ablation process for printing POW.
Task:
Literature study on related topics to the work (e.g., laser system and AJP, IJP, etc.)
Determination and optimization of the laser process parameter toward the quality of the results.
Preparation, characterization, and analysis of the prepared samples on selected substrate materials.
Documentation of the research works in the appropriate format.
Requirement;
Keen interest in laser technology and digital printing technology.
Knowledge in CAD-CAM software would be advantageous but not necessarily.
Self-motivated and willing to learn new skills.
Proficiency in English and Deutsch (written and spoken).
Able to work independently and efficiently with minimal supervision
Start: as soon as possible.
If you are interested, please send your curriculum vitae (CV) and academic results via e-mail
Kategorien:
Forschungsbereich:
Elektronikproduktion
Art der Arbeit:
Bachelorarbeit, Masterarbeit, Projektarbeit
Studiengang:
Energietechnik, Informatik, IPEM, Maschinenbau, Mechatronik, Wirtschaftsingenieurwesen
Kontakt:
Es konnte kein Kontakteintrag mit der angegebenen ID 2735 gefunden werden.