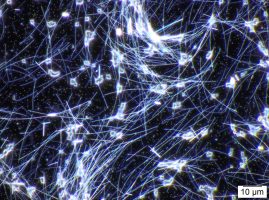 Demands for transparent conductive electrode (TCE) technology become vital, especially in the printed electronics application. Silver nanowires (AgNWs), one of the promising material to be used in TCEs technology, owing to its advantages which is highly electrical conductivity, optical transparency, and availability in solution-based material. This research aims to print reliable and quality AgNWs on desired substrates for organic electronics applications.
Your task:
Reformulation of the AgNW inks when necessary.
Determination of critical printing process parameters.
Implementation of statistical design of experiment (DOE) to optimize sample results.
Samples characterization and data analysis.
Documentation of the research works in the appropriate format.
Requirements:
Keen interest in Printed Electronics

 (opens in a new tab)

Self-motivated and willing to learn new skills.
Competent in MS-Office and CAD-CAM software.
Proficiency in English and Deutsch (written and spoken).
Able to work independently and efficiently with minimal supervision.
Interested candidates, please send curriculum vitae (CV) and academic transcript via e-mail.
Kategorien:
Forschungsbereich:
Elektronikproduktion
Art der Arbeit:
Bachelorarbeit, Masterarbeit, Projektarbeit
Studiengang:
Energietechnik, Maschinenbau, Mechatronik, Wirtschaftsingenieurwesen
Kontakt:
Es konnte kein Kontakteintrag mit der angegebenen ID 2735 gefunden werden.