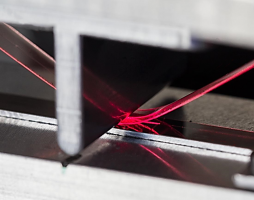 Initial situation:
FAPS has been working on the digital printing of polymer optical waveguide (POW) through aerosol jet printing for several years. The polymer base materials for the optical waveguide are finely atomized and deposited onto the stable material surface. As the research work progressed, the knowledge in printing strategy on the 2D substrate is now ready to be implemented to the 3D substrate. The advantages of this process will simplify device connections for data transmission system.
Main areas of work:
Assisting in running the experiment based on the given specific tasks and standard procedure.
Systematic data collection and documentation in the appropriate format.
Requirement
Interested in additive manufacturing and optic technology.
Knowledgeable in CAD/CAM software (desirable but not mandatory).
Proficiency in English and Deutsch (written and spoken).
Ability to work independently and efficiently.
Remarks:
Flexible working time (10 hours per week)
Expected start January 2021
Interested in a long-term cooperation.
Interested candidates, please send curriculum vitae (CV) and grading overview via e-mail to mohd-khairulamzari.hamjah@faps.fau.de
We thank you for your interest in this HiWi position and looking forward to receiving your application!
Kategorien:
Fachbereich:
Elektronikproduktion
Studiengang:
Energietechnik, IPEM, Maschinenbau, Mechatronik, Medizintechnik, Wirtschaftsingenieurwesen
Technologiefeld:
Medizintechnik
Kontakt:
Es konnte kein Kontakteintrag mit der angegebenen ID 2735 gefunden werden.